The nuclear-powered icebreaker «Lenin»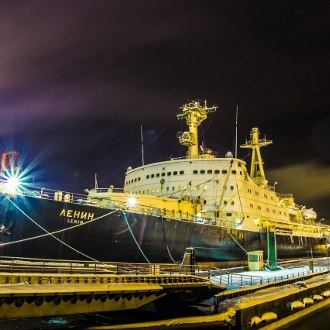 Location - Murmansk city, Portovy Passage, 25 (pier of the Murmansk Sea Terminal)
Nuclear-powered icebreaker "Lenin" is the world's first nuclear-powered on-water vessel with nuclear installation. The icebreaker was constructed in the Soviet Union, primarily to serve the Northern Sea Route. Launched on December 5, 1957.
Due to the large capacity of the nuclear installation and high autonomy, the icebreaker showed excellent performance during the first navigation. The use of the nuclear-powered icebreaker has significantly prolonged navigation. Only in first 6 years of operation the icebreaker made more than 82 thousand nautical miles and independently escorted more than 400 vessels.
Icebreaker "Lenin" worked for 30 years and in 1989 she was decommissioned and moored in the city of Murmansk.
Currently icebreaker "Lenin" functions as a museum.